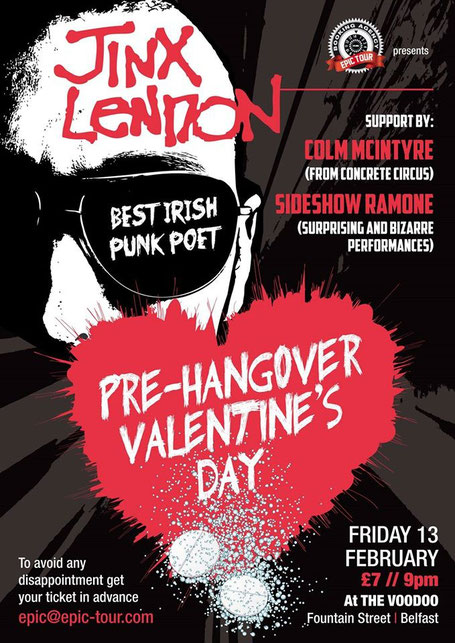 EPIC TOUR and Jinx LENNON will get you prepared for your Valentine's day !

Get your poem up for your love with the best punk poet in this world : JINX LENNON ! 
+ COLM Mc INTYRE acoustic solo act
(from Concrete Circus)
+ Amazing performance from the great
SIDE SHOW RAMONE !
BIOG
Jinx the most contemporary singer in the land right now.
Bad health services ,loan sharks, dole snitches, joyriders, water meters,and bust ups outside the chipper are the meat of the Jinx show.
Jinx Lennon explodes with confusion, ideas, melodies, injustice, styrofoam cups and roads to lead from nowhere.
Veteran of The Electric Picnic, Latitude Festival, Vantastival and countless venues from Iceland to Liverpool Jinx will scrape the dead cells off your frazzled brains and uplift YOU with awkward tunes full of rawness and rage. 
PRESS
He rants on ,sometimes tunefully ,always unstoppably.
He get's everything you hope for from titles like ''New Land of Syringes'' and ''Nigerians(Stop giving out about)''.
ROBERT CHRISTGAU - Rolling Stone/The Village Voice WIRED TO A BEAUTIFUL INDUSTRIAL MOON-PAT MC CABE AUTHOR ''BEST LYRICS IN IRELAND ''DAMIEN DEMPSEY,SINGER Pinch of Lee Scratch Perry, dash of Pat McCabe, tablespoon of Chuck D, shot of Christy Moore & essence of Flann O'Brien 
- it was deadly-
Mark (audience member )
YOU SEE JINX IS A TRUE DIAMOND IN THE ROUGH -EDWIN MC FEE,HOT PRESS ONE OF IRELANDS GREATEST LIVING STORYTELLERS -CONNECTED MAGAZINE
http://jinxlennon.com/

+ Colm Mc Intyre acoustic solo act (from Concrete Circus)
+ Sideshow Ramone

BOOKING YOUR TICKET IS ESSENTIAL TO AVOID ANY DISAPPOINTMENT : 
email : epic@epic-tour.com // subject " ticket Jinx Lennon" 
Any questions or enquiries : epic@epic-tour.com
Share/Partagez
---