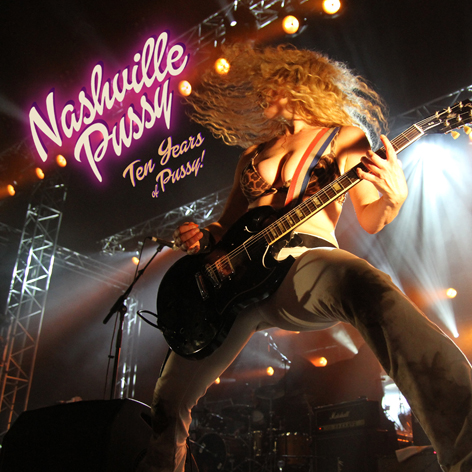 RAGE TOUR and EPIC TOUR PROUDLY PRESENT :
NASHVILLE PUSSY UK TOUR 2017
* From 11th to 18th of JANUARY 2017 *
To get them to your venue email epic@epic-tour.com
Bio :
PUSSY'S NOT A DIRTY WORD By Wayne Robins
"If there's ever been a better band to open for Motorhead, I've not heard them!"---Lemmy, when asked about NASHVILLE PUSSY
Now, there's a temptation to let the above quote stand alone and just go to the nearest pub. What can i possibly add to God's words? Isn't that a sin anyways? Well, while you're pondering that predicament here's another quote to suck on.
"Seeing Nashville Pussy is as close to seeing ACDC in the 70's as you're going to get"--- from The Story Of The Album Highway To Hell by Joe Bonomo
NASHVILLE PUSSY [dirty rock'n'roll / US-Atlanta]
 
There are few bands that embody the phrase "sex, drugs & rock 'n' roll" as well as the Grammy Nominated American hard rock act Nashville Pussy.
Blaine Cartwright is the Bon Scott of his generation with his 'nursery rhymes for prisoners' style of lyrics. Wife Ruyter Suys is the Angus Young of women. Together they create 100 proof No holds barred, no apology rock'n'roll. This shit ain't for pussies.

Members
-

Jeremy Thompson

: drummer [Biloxi, Mississippi]
-

Ruyter Suys

: guitar player [Vancouver, B.C.]


- Blaine Cartwright

: singer & guitar player [Bowling Green, KY]


- Bonnie Buitrago

: bass player [

Huntington Beach, CA

]
Discography
2015 - Ten years of pussy
2014 - Up The Dosage
2009 - From Hell to Texas
2005 - Get Some!
2002 - Say Something Nasty
2000 - High As Hell
1998 - Let Them Eat Pussy

Videos:
NASHVILLE PUSSY -COME ON COME ON
NASHVILLE PUSSY - LAZY JESUS (w/ Lemmy Motorhead)
INTERVIEW NASHVILLE PUSSY&LEMMY MOTORHEAD

Website :
Website NASHVILLE PUSSY